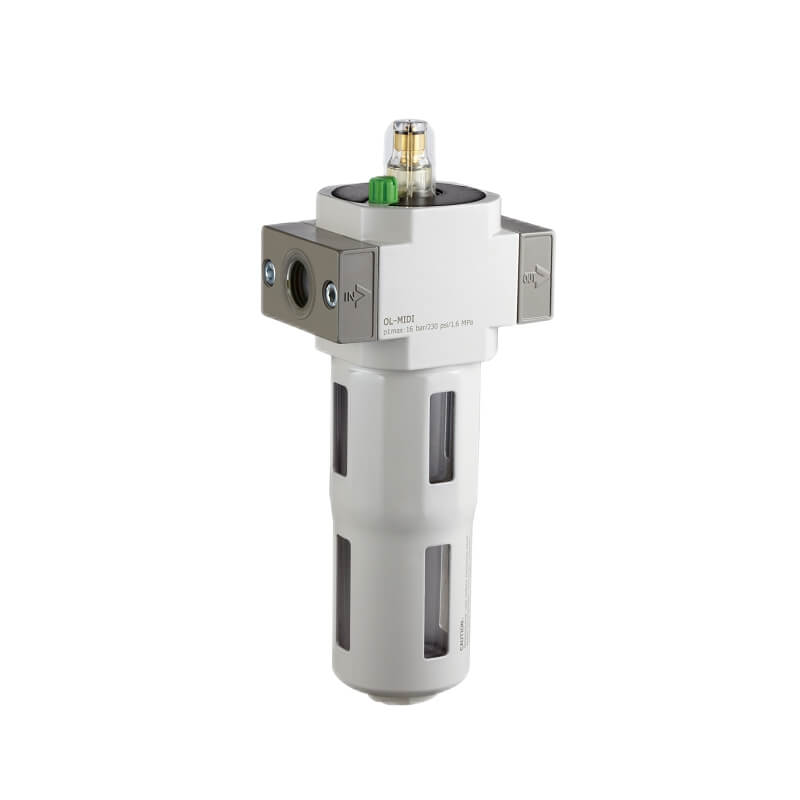 OL Air Lubricator
OL air lubricator is designed to add regulated quality oil to the compressed air, a type of direct constant-density lubricator, utilizing a valve to maintain oil mist proportional in the compressed air flow system. The rate of oil drip is regulated by the method of the regulating screw, usually, 1 to 12 drops/1000L air is enough.
The OL oil mist air lubricator withstands a 1.6MPa max pressure rating and perfectly meets all the requirements of different air pipelines.
Body material: Aluminum, Zin Alloy(Kirsite)
Pressure: 0-16bar
Pipe size:1/4"-1"
Fluid Media: Compressed Air
Designed to complement the Compressed Air Pipe System
Pipe mounting or foot mounting
Complete with bracket.  Can be combined with OF air filter, OR regulator.
Specification
MINI
MIDI
MAXI
Port Size
G1/8"
G1/4"
G3/8"
G3/8"
G1/2"
G3/4"
G3/4"
G1"
Material
Housing: Zinc die-casting, Filter bowl and oil: Polycarbonate, Metal bowl guard: Aluminum Alloy, Sealing: NBR, Adjusting knob: POM
Working Medium
Clean air
Max Working Pressure
1.6Mpa
Mounting Type
Pipe mounting or leg mounting
Assembly Position
±5°
Medium Temperature
-10 to 60℃
Ambient Temperature
-10 to 60℃
Recommended Oil
Turbine No1 Oil ISOVG32
Features of Structure
The direct constant-density lubricator
Min Standard Nominal Flow Rate
3L/Min
6L/min
10L/min
The capacity of Condensate Fluid
22ml
43ml
80ml
Max Capacity of Cup
45ml
110ml
190ml
Precision
40um/5um
Weight
270g
630g
1100g
1200g