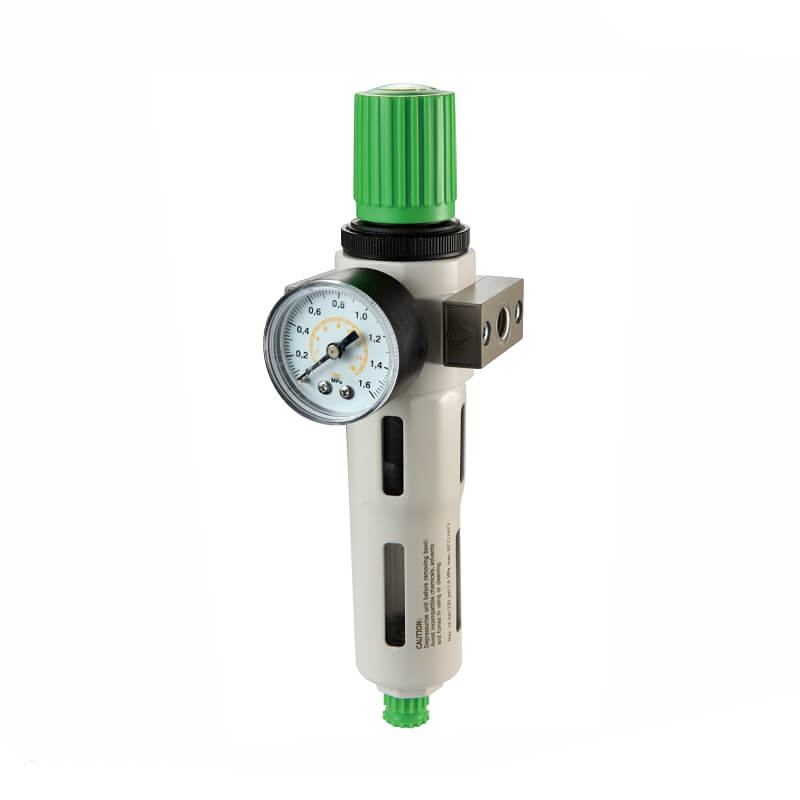 OFR Air Filter Regulator Combination
OFR series air filter regulator combination consists of the air filter and regulator together, compact design, it's designed to remove the oil, dust, dirt, and water from the compressed air, to supply the clean compressed air in the pipeline, improve the performance of the pneumatic actuator, also prolong the working life of the pneumatic system. The single OFR combination unit comes with a round pressure gauge, square gauge type for option. The economical type body uses aluminum material, while the premium type uses Kirstie material, also called zinc alloy. The working pressure can go up to 16 bar, maintaining the constant pressure on the pipeline despite the fluctuation of compressed air.
OFR series air filter regulator combo supplies the competitive choice for air filter regulator replacement, perfect models work with air compressor.
The OFR series filter and pressure regulator is combined as a single unit, to clean the compressed air from fluid oil, condensation, and dirt particles.
For special applications, a 20μm filter element can be replaced by a 5 μm filter element.
The OFR maintains inputting constant operating pressure despite fluctuations in line pressure and the amount of air consumed.
The OFR series air filter regulator combination has 3 body sizes, MINI, MIDI, and MAXI options.
Housing: Zinc die-casting; Filter bowl and oil: PC;

Metal bowl guard: Aluminum alloy, Sealing: NBR, Adjusting knob: POM

Pipe mounting or leg mounting

Turned manually

Fully automatic

The sintered filter with water separator; MINI/MIDI: diaphragm type regulator;

MAXI: Piston regulator, Direct constant-density lubricator.

Working temperature range

The capacity of  Condensate Fluid