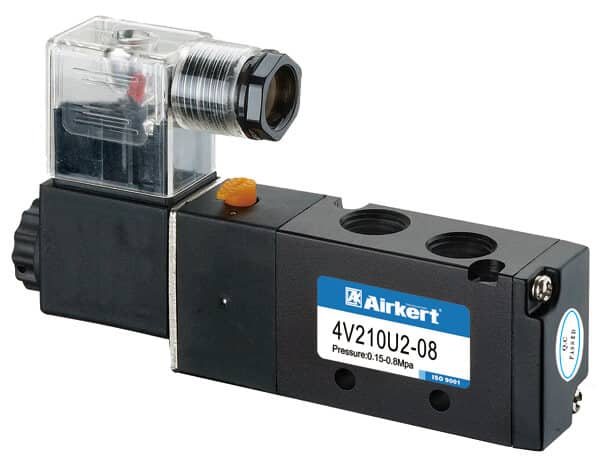 4V Series Pneumatic Directional Solenoid Valves
4V series solenoid valves are suitable for operating double or single acting cylinders in pneumatic control system. They have 5 ports and 2 or 3 positions. And 4 type's valve bodies are provided. They are 4V100, 4V210, 4V310 and 4V410 etc. The ports size can be from M5 to 1/2". The solenoid operated valves can be mounted in line. The pilot valve is supplied with manual override and connector as standard.
Characteristic:
1) The protection grade for this series solenoid valve is IP65.
2) Different voltages are available for coils.
3) Pressure unit: 1kgf/cm2=1bar=0.1MPa=100KPa=14.5psi
4) Lead wire type is available, please remind when you order.
5) Different thread types can be offered according to customers' requirements, e.g.: PT, NPT etc.
Media
Compressed air
Applicable pressure range
0.15~0.85Mpa
Proof pressure
1.2Mpa
Ambient and fluid temperature
-5~60°C
Material of body
Aluminum alloy
Standard voltage
DC12V,DC24V,AC24V,AC110V,AC220V,AC380V
Power consumption
AC220V
2.0W
DC12V,AC110V,AC380V
2.5W
DC24V
3.0W
AC24V
3.5W
Allowable voltage range
-15%~10%
IP rate
IP65
Insulation rate
Class F
Action
Internally piloted
Min. activate time
0.05 s
Lubrication
Needless