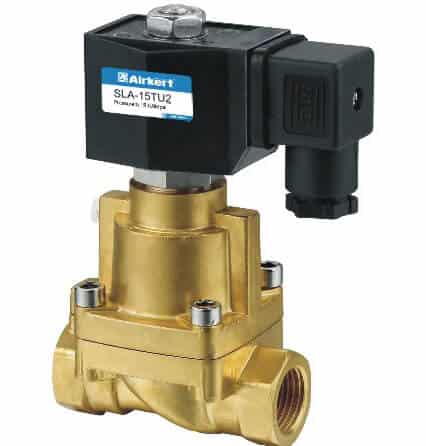 SLA 2/2-way Pilot Operated Piston Solenoid Valve·Normally Closed High pressure solenoid valves for water, air, gas, up to 50 bar.
SLA series valves are pilot piston type 2/2 valves. Normal close and normal open is optional. The sealing material is Teflon. The working pressure for SLA solenoid valve is high, which can reach 2.5 MPa, high pressure solenoid valve and the Max.temperature can be 185 ℃. The perfect choice instead of SMC, ASCO, FESTO, BURKERT, DANFOSS with competitive price.
SLA-06 SLA-08 SLA-10 SLA-15 SLA-20 SLA-25 SLA-35 SLA-40 SLA-50
Body material: Forged Brass
Pressure:0.5-25kgf/cm2
Orifice:Ф2.5mm-50mm
Pipe size:1/8"-2"
Fluid Media: Steam  Water、Hot Water、Air、Gas、Oil Etc.
Water Solenoid Valve
Hot Water Solenoid Valve
Air Solenoid Valve
Gas Solenoid Valve
Steam Solenoid Valve
Oil Solenoid Valve