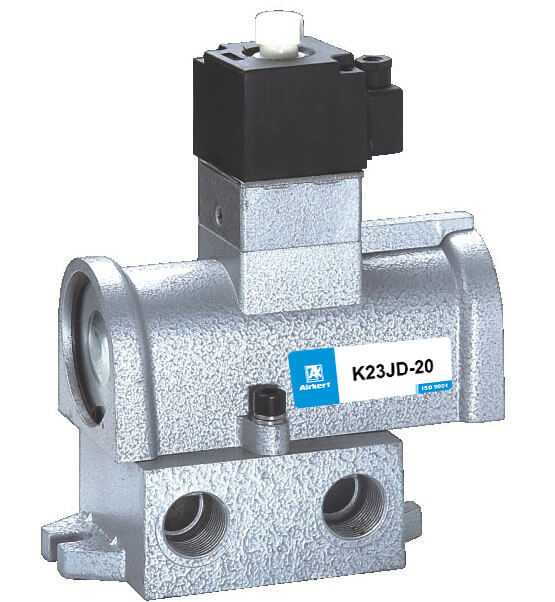 K23JD Series Solenoid Stop Valve
Practical Compact K23JD‑20 Solenoid Valve for Professional Use for General Purpose for Gas for Water for Air(Voltages for optional)
Feature:
1. 2‑position 3‑way solenoid valve, made of high‑quality aluminum alloy, durable to use.
2. It adopts a spacer‑type slide valve structure with stable and reliable performance.
3. With an automatic compensation function for seal wear, it is widely used in many fields.
4. With greater capacity, it can meet the needs of large working media.
5. Compact structure, base plate uses tube connect structure, makes installation and maintenance more convenient.
Body material: Aluminum
Pressure:1-10 bar, 150 PSI
Fluid Media: Compressed air
Specification:
Item Type: Solenoid Valve
Material: Aluminum Alloy
Model: K23JD-15/20/25
Interface Diameter: G 1/2", 3/4", 1"
Pressure: 0.15-0.8mpa
Reversing Time: ≤0.1s
Maximum Allowable Commutation Frequency: 4Hz
Leakage Flow: 25cm³/Min
Ambient Temperature: -5-50℃
Medium Temperature: -5-50℃
Life: ≥1500000 Times
How to Use:
1. During debugging or power failure, manual operation can be used (manual switch "0" position is off, "1" position is on).
2. The inside and outside of the pipe must be cleaned during installation, and then the dust cap must be removed.
3. It is suitable to disassemble and wash or add some lubricating oil for long storage time or long-term use or unskillful action.